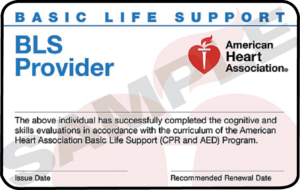 COURSE DESCRIPTION
The Basic Life Support (BLS) Healthcare Provider Course is designed to provide a wide variety of healthcare professionals the ability to recognize several life-threatening emergencies, provide CPR, use an AED, and relieve choking in a safe, timely and effective manner for the adult, child or infant. The course is intended for certified or non-certified, licensed or non-licensed healthcare professionals.  Class agenda includes video instruction, lecture, hands on with manikins and AED equipment and test.
COURSE LENGTH
4 hours (Receive Certification upon completion & payment)
COST
$65 per person.  Student manuals are available.
INTENDED AUDIENCE
BLS certification is required for Healthcare providers such as physicians, nurses, paramedics, emergency medical technicians, respiratory therapists, physical and occupational therapists, physician's assistants, residents or fellows, or medical or nursing students in training, aides, medical or nursing assistants, police officers, and other allied health personnel.
Wallet card certification is valid for 2 years.
The AHA promotes knowledge and proficiency in BLS and ACLS and has developed instructional materials for this purpose.  Use of the materials in an educational course does not represent course sponsorship by the AHA. Any fees charged for training, except for a portion of fees needed for AHA course material, do not represent income to the American Heart Association.
This Course is also available Online!  BLS for healthcare providers online renewal.
This online course includes a series of modules that cover all required sequences. Those who successfully complete Part 1 receive a certificate that allows them entrance to a skills validation session with an AHA instructor. A BLS American Heart Association course completion card will be issued by our AHA Training Center when both parts are successfully completed.