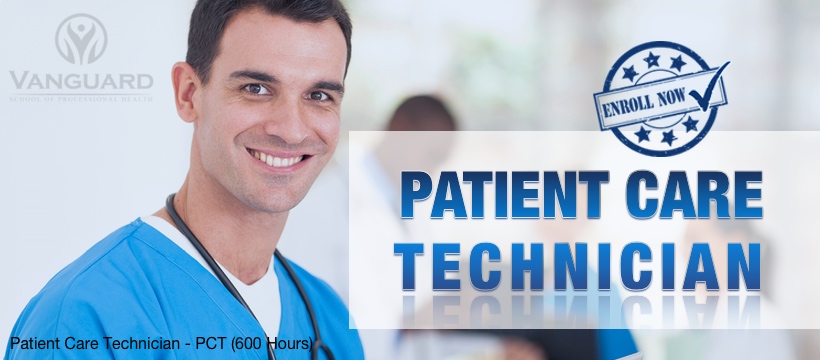 PROGRAM LENGTH
600 Hours/Approximately 6 months
Full Time (30 Weeks)
Part Time (38 Weeks)
PROGRAM OBJECTIVE
To prepare and train students for employment as a Patient Care Technicians.
COURSE CONTENT
The patient Care Technician is a multi-skilled healthcare worker who, under the direction and supervision of a registered nurse, carries out the essentials basic bedside nursing functions. The Patient Care Technicians comes in direct contact with the patient in the performance of his /her assigned duties. Students also receive supplementary training in 12-lead EKG, basic phlebotomy techniques and perform restorative skills.
ADDITIONAL SKILLS COVERED
* Anatomy & Physiology
* Blood Borne Diseases HIV/AIDS, HBV
* Communication & Interpersonal Skills
* Computer Literacy
* CPR, BLS Healthcare Provider
* Documentation
* Domestic Violence, HIPAA, Legal & Ethical Responsibilities
* EKG Modalities
* Emergency Care
* Employability Skills & Career Counseling
* Home Health Care
* Infection Control
* Math & Science Skills
* Medical Errors
* Medical Terminology
* Nursing Assistant Skills
* Phlebotomy Procedures & Protocol
* Safety and Security Procedures
* Wellness & Disease Concepts
PROGRAM COMPLETION
Certification & State Credential Exam.  Upon successful completion of Nursing Assistant Skills component, the student will be eligible to take the State Certified Nursing Assistant Certification Examination.